When is a pest inspection required in Connecticut?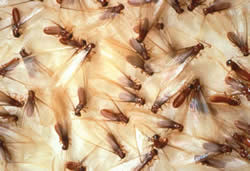 A pest control inspection in CT is usually required during a real estate transaction in which financing a loan or mortgage is involved.  This especially holds true when using a FHA, VA (Veterans), & USDA loan to purchase or refinance a property.
Buying and selling a home can be a complicated process, involving numerous contracts and financial agreements between buyers and sellers, and their respective real estate agents.
To successfully complete this process, in most instances in CT,  you can expect the lender to require  the wood-destroying organisms report (often referred to as WDI report or WDO report) which will indicate the activity of termites and other wood damaging insects.
You may also want to review any agreement, receipts, service orders, or contracts between the current homeowner and his/her pest control company, if applicable when proof is needed to show treated, retreated and / or repaired areas in the past.
If no termite activity or evidence of activity is found in and around the CT  home, we provide you with the report on the correct form immediately on site.
If termite specialists discover termite or other insect activity or signs of previous damage during the inspection, you will still receive the report but it may include a recommendation of treatment to eliminate termites or other wood destroying insects from the structure.
While most pest control inspections are performed as a result of a pre-purchase requirement in a real estate transactions. Some home and property owners choose to have a licensed, certified, professional pest control inspection performed annually to ensure their piece of mind.
Call us today us today, to schedule your inspection 888-558-1574